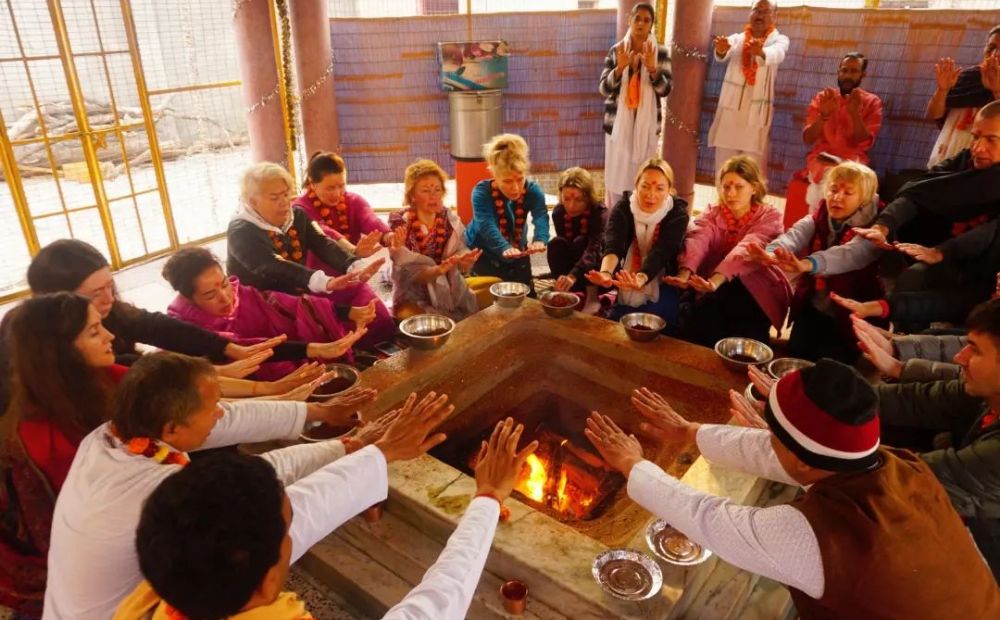 About Yoga TTC
Embarking on a 200-hour yoga teacher training at Yoga Niketan Ashram (estd:1964) in Rishikesh, India is a transformative journey, immersing oneself fully in the ancient art of yogic sciences. Beyond simply gaining certification to teach yoga globally, this experience transcends expectations. Participants acquire a comprehensive skill set for nurturing their mind, body, and soul, while forging lifelong memories, friendships, and invaluable encounters. By successfully completing the course, which encompasses Hatha and Raja yoga, meditation, pranayama, as well as theoretical exploration of anatomy, ayurveda, philosophy, and mantra, your yoga teaching skills will soar to unprecedented heights.
---
Yoga Niketan Ashram offers a transformative 200-hour holistic yoga teacher training course that centers around the traditional styles of Raja yoga and Hatha yoga. This comprehensive program provides genuine teachings on various aspects of yoga, including yoga philosophy, yogic lifestyle, asanas, pranayama, anatomy, meditation, Ayurveda, mantra chanting, teaching methodology, and alignment. Throughout the course, you will have the privilege of learning from experienced yogis who have dedicated years to studying and practicing yoga, encompassing all its foundational pillars.
The 200 Hour Yoga Teacher Training Course offers a multitude of benefits that can positively transform your life
Holistic Well-being: Through this training, you will acquire the tools and techniques to master your physical, mental, and spiritual well-being. As you deepen your understanding and practice of yoga, you will experience noticeable improvements in various aspects of your life, including your relationships and work. The practice of yoga empowers you to achieve balance, inner peace, and enhanced overall wellness.
New Career Opportunities: Completing the 200 Hour Yoga Teacher Training Course opens up exciting career avenues for you. With your newfound knowledge and expertise, you can embark on a fulfilling journey as a yoga teacher. Sharing your wisdom and guiding others on their wellness journeys becomes a rewarding profession. Whether you choose to teach locally or internationally, the art of yoga can be practiced and taught anywhere, allowing you to create a positive impact wherever you are.
By enrolling in the 200 Hour Yoga Teacher Training Course, you not only invest in your personal growth but also gain the ability to inspire and uplift others through the transformative practice of yoga.
Curriculum of 200 Hours Yoga TTC
Yoga Niketan Rishikesh offers comprehensive Yoga Teacher's Training Program. The details of program is below. If you would like to connect with our Yoga Teachers for discussion and queries. Please feel free to write/call them on the given contact in this page.
Meaning and definition of Yoga
History of yoga in: Veda, Upanaisads, Smriti, Epics Ramayana, Mahabharata, Purana, Puddha, Maharsi Patanjali.
Petanjali yoga: Astanga Yoga, Kriya Yoga
Hatha Yoga: Hatha Pradipika, Gherand sahinta, Shiva sahinta
Yoga in Srimad Bhadwad Gita
Raja Yoga (royal path of yoga)
Karma Yoga (the yoga of action)
Bhakti Yoga (the yoga of love & devotion)
Jnana Yoga (the yoga of knowledge)
Pancha Kosa (The five sheaths of the body)
The ultimate goal of Yoga.
Purpose of Pranayama
Meaning and definition of Pranayama
Explanation and practice of eight basic pranayamas and their variations
Explanation of five different Pranas and their roles in the body
Physiological understanding of Pranayama
Importance of Pranayama
Physical, Mental, emotional, and spiritual benefit of Pranayama
Explanation and Practice of six yogic purification techniques and their variations
Benefit and the precautions
Dhauti, Basti, Neti, Nauli, Tratak , Kapalbhati
Explanation and practice of 84 traditional Asanas (postures) with their variations
The name and the meaning of Asanas
Adjustment and the technique to advancing the Asanas
Physiological and understanding of Yoga- Asanas
Positive impact of Yoga-Asanas on psychological and physiological state
The whole benefit and the precautions of the all the Explained Asanas.
History and basic information of Astanga Vinyasa
Sun salutation A and B
Primary series of Astanga Vinyasa
Adjustments and helpful hints for Astanga practice
The teacher and the students
Guidelines for Yoga Instructions
Lesson plan and the Advantages of a lesson plan
Essential of a good lesson pan
Guidelines for Yoga lessons
The art of instructing during teaching practices
Class management
Feedback and improvement
Homeostasis
Level of structure organization of the body
Atoms molecules and compounds
Cell
Tissue
Organs
Skeletal system
Muscular system
Nervous system
Circulatory system
Respiratory system
Digestive system
Endocrine system
Excretory system
Reproductive system
Integumentary system
Immune system
Urinary system
Type of meditation and techniques for the meditation
Practice of
Chakra shuddhi meditation (meditation for the purification of the Chakras)
Kundalini Meditation
Vippasyana Meditation
Mantra/ Japa Meditation
Ajapa-japa Meditation
Sahaja Meditation
Prayers are essentially the expression of our heart. The language could be varied and the intensity with which one prays may vary from person to person. Vedic Mantras are chanted according to the intonation given in the Vedas. One needs to listen to them very carefully and learn seriously. The Vedic chanting has come down from generations to generations and even today it is chanted exactly the same manner by the followers of the particular branch of Vedas. When we learn to accept everything our whole life can become a prayer!
Three types of food according to its qualities that are Sattvic, Rajasic, Tamasic
Recommendation for the yogic diet.
Art of fulfilling life
Art of acceptance and letting go
Certification
Upon successfully completing the 200-hour yoga teacher training, you will be awarded two certificates. The first certificate will be issued by Yoga Alliance, USA (an additional fee of $50 USD applies), recognizing your qualification as a certified yoga teacher. The second certificate will be granted by the Ayush Ministry, Government of India, further validating your training and expertise in yoga. These certificates serve as prestigious credentials, acknowledging your accomplishment in the field of yoga instruction.
Accommodation
During your course, you will be accommodated in single non-air-conditioned rooms at Yoga Niketan Ashram, located in Rishikesh, India. Situated in the heart of the vibrant tourist destination, the ashram is conveniently positioned near the famous hanging bridge and the holy Ganga River, yet it offers a peaceful environment away from the bustling main street. Nestled amidst lush green gardens and forests, the ashram enjoys a slightly elevated position on the mountainside. It features serene private lawns that overlook the river. The ashram facilities include two yoga shalas, a dining area, and a library. Within just a 5-minute walk, you can access various cafes, restaurants, shops, ATMs, healthcare facilities, and organic stores, making it an ideal location for hosting yoga retreats and teacher training courses in Rishikesh.
Yoga Niketan Ashram provides single-room accommodations for students and guests, both air-conditioned and non-air-conditioned, each equipped with a private bathroom. Some rooms also offer a balcony with garden and Ganga River views, providing a relaxing space during breaks. The ashram maintains well-kept and clean rooms, providing essential amenities such as bed sheets, pillows, bath towels, toilet paper, blankets, and welcome supplies upon arrival. Wi-Fi is available in the ashram library area, and free filtered water is provided. Additionally, laundry service is available upon request.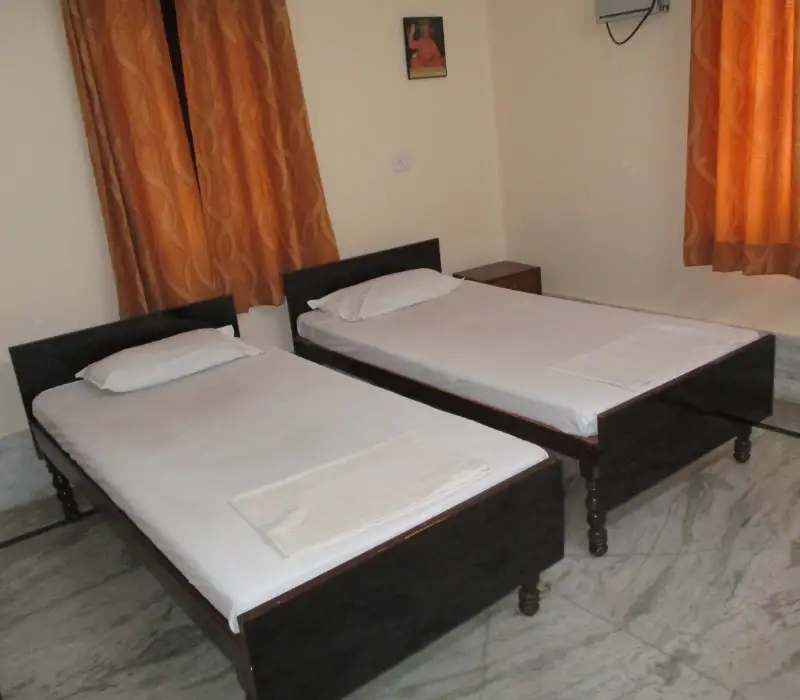 Vimal Pandey Ji
Dr. Yogi Vatsye
Ram Prasad Ji
Charat Nirvan Ji
Shri Milan Ji
Dates & Prices
| | |
| --- | --- |
| 1st – 24th | November 2023 ($999 USD) |
| 1st – 24th | February 2024 ($999 USD) |
| 1st – 24th | March 2024 ($999 USD) |
Note: Early Bird Discount is additional 5% on the mentioned fee; There is a special Fee for Indian citizen students (Rs. 65,000)
To ensure individual attention and a high-quality learning experience, we maintain small batches with a limited capacity of 12-15 students. Due to this, we recommend booking your spot in advance to secure a place in the program.
Don't miss out on this opportunity to embark on a transformative journey. Reserve your spot today and join us for the next 200 Hour Yoga Teacher Training Course.
NOTE: Ashram reserves the right to cancel the TTC program in case the number of students becomes less than 5 in any month. If you send some advance booking charges to book your spot, the refund (in case of cancellation from Ashram or from your side), the money refund process usually takes upto 3 months as per guidelines of Indian Banking System.
Throughout the course, you will have the chance to participate in various engaging recreational activities, including:
Fire ceremony in the ashram: Experience the sacredness of a traditional fire ceremony conducted within the serene surroundings of the ashram. This spiritual practice offers a unique opportunity for reflection and inner transformation.
Famous Ganga River Aarti: Witness the mesmerizing Ganga Aarti, a captivating ritual that takes place on the banks of the sacred Ganga River. Immerse yourself in the enchanting atmosphere as you observe the rhythmic movements and chants dedicated to the river's divine energy.
Special Kirtan in Ashram Radha Krishna Temple: Join in the soul-stirring Kirtan, a devotional chanting session, held in the serene Radha Krishna Temple within the ashram. Allow the melodic tunes and devotional songs to uplift your spirit and deepen your connection to the divine.
Temple visit and Sunrise viewing in nearby mountains: Embark on a serene journey to visit nearby temples and witness the awe-inspiring beauty of a sunrise amidst the mountains. This experience provides a tranquil setting for reflection and appreciation of nature's wonders.These recreational activities are designed to enhance your overall experience during the course, offering moments of spiritual connection, cultural immersion, and connecting to Himalayan vibes.
---
What is included- Your package includes the following:
24 nights of comfortable accommodation
An additional night's stay before the start of the course, ensuring a seamless transition.
Access to all classes and sessions as outlined in the program.
Three wholesome sattvic vegetarian meals per day, prepared with fresh ingredients to nourish your body and mind.
A visit to experience the beautiful River Aarti, a spiritual ceremony on the banks of the sacred river.
A comprehensive yoga kit comprising of yoga books, a textbook, and a pen, providing you with valuable resources for your continued practice and learning.
A certificate of completion, recognizing your dedication and successful participation in the program.
Eligibility to register for Yoga Alliance certification upon completion (additional payment of $50 USD applies), further enhancing your credentials as a certified yoga practitioner.
This package ensures a holistic and fulfilling experience, combining comfortable accommodations, nourishing meals, enriching classes, cultural experiences, educational resources, and recognized certification opportunities.
Airfare
Personal expenses
Pickup/Drop off from the school to airport
Yoga Alliance Certificate fees
This package ensures a holistic and fulfilling experience, combining comfortable accommodations, nourishing meals, enriching classes, cultural experiences, educational resources, and recognized certification opportunities.
Arrival by airplane :Please book your flight to arrive at Jolly Grant Airport (DED). Ashram can organise your pickup from Airport upon additional payment.
Arrival by bus :From the Delhi Airport, you can get a taxi to bring you to the Delhi ISBT bus station. From there you can find many government and private transportation to bring you to Rishikesh. Once you arrive at the Rishikesh bus station, you can get a tuk-tuk to Ramjhula tuktuk stand or ashram directly. You can use google maps to reach easily.
Arrival by train :The nearest railway station is Rishikesh train station. From there you will find many tuktuks, taxis, and other transportation services that will bring you to Ashram. If you want us to help you arrange transportation from Train station, kindly let them know.
A reservation requires a deposit of 20% of the total price.
The deposit is non-refundable, if the booking is cancelled. But, it can be adjusted in future whenever you plan to do TTC
The rest of the payment should be paid on arrival.
Yoga Niketan Ashram reserves the right to cancel the yoga TTC Program in case of any unforeseen situations or if less than 5 (Five) students register for the prorgam. In any case, ashram will be in touch with you regarding your booking.