One Of India's Oldest Yoga Ashram
Yoga Niketan Ashram Rishikesh was established in 1964 by great Himalayan Yogi Paramhamsa swami yogeshwarananda saraswati. This is a renowned center for yoga and spiritual practices. For over six decades, ashram has been dedicated to spreading the teachings of yoga and guiding individuals on their path to holistic well-being. Our team of experienced yoga instructors and spiritual guides are committed to providing a nurturing and supportive environment for practitioner coming from all over the world.
Yoga at Yoga Niketan Ashram
The Samadhi Hall, which also doubles as a Yoga Hall, serves as a space for practicing Asanas and Pranayams in both the morning and evening sessions. Experienced Yoga Acharyas and teachers conduct yoga classes twice daily, providing guidance to the participants.
The Ashram has published a book titled 'First Step to Higher Yoga,' which showcases approximately 300 types of Asanas, along with their respective benefits for various parts of the body. Within the hall, there is a marble statue of the esteemed Himalayan Yogi, Swami Yogeshwarananda Saraswati, the founder of the ashram. The statue is placed in a meditative posture, marking the sacred spot where his body rests.
Meditation at Yoga Niketan Ashram
The Ashram's meditation hall, known as the Meditation or Sadhna Hall, provides a serene space for practitioners to engage in their meditative practices. The hall is equipped with central air conditioning, ensuring a comfortable environment. With its spacious layout, it can accommodate approximately 50-60 individuals at a time. Cushions have been thoughtfully provided to enhance sitting comfort during the sessions.
Sadhna classes or meditation sessions are scheduled early in the morning, prior to the yoga classes, as well as in the evening, following the yoga sessions. Following the evening meditation, a communal dinner is served for all participants. These meditation classes are conducted by experienced Yoga Acharyas, who adhere to the traditional teachings of Patanjali's hatha yoga.
Overall, the Sadhna Hall offers a tranquil setting for practitioners to engage in meditation, promoting inner peace and spiritual growth.
Library at Yoga Niketan Ashram
The Ashram boasts a well-stocked library that houses an extensive collection of books on a wide range of subjects related to Yoga, meditation, yoga philosophy, tantra, ayurveda, ancient scriptures, and biographies penned by renowned authors. The library offers a diverse selection of titles in multiple languages to cater to the interests and preferences of its visitors.
To enhance accessibility, the titles of the books have been digitized and made available online. Visitors can conveniently access the library's database by clicking here, which allows them to explore the collection and search for specific books of their interest.
Whether one seeks knowledge on the intricacies of Yoga, spiritual insights from ancient texts, or a deeper understanding of meditation techniques, the Ashram's library provides a valuable resource for seekers on their spiritual journey.
Sattvic Food at the Ashram
At the Ashram, the food preparation takes place in a community kitchen where an emphasis is placed on using fresh vegetables and a variety of wholesome cereals. During breakfast, a delightful assortment of options awaits, including various types of tea and nourishing porridge.
For the other meals, a typical menu includes rice, Indian chapatti (bread), green vegetables, and a vegetable salad. The Ashram encourages self-sufficiency and a sense of responsibility, so it is expected that the residents clean their own dishes during their stay. This practice fosters mindfulness and cultivates a spirit of cooperation and community among the residents.
Moreover, seasonal fruits are occasionally served as part of the meals, adding a refreshing and nutritious element to the dining experience. The Ashram endeavors to provide well-rounded and nourishing meals that support the health and well-being of its residents.
Activities at Ashram
Yoga Niketan Ashram offers a variety of activities for its residents and visitors to engage in. Some of the activities available at the Ashram include:
Daily Yoga and Meditation Class
The Ashram conducts regular yoga and meditation classes, providing participants with guidance and instruction in various yogic practices.
Q&A Session
There are dedicated sessions where individuals can engage in discussions and ask questions related to yoga, allowing for a deeper understanding and clarification of yogic principles
Satsang
With supporting text below as a natural lead-in to additional content.
Visits to Local Spiritual Places and Attractions
The Ashram organizes visits to nearby spiritual places and other attractions, enabling participants to explore and connect with the rich spiritual heritage of the region.
Karma Yoga
On Sundays, the Ashram offers Karma Yoga sessions. Karma Yoga involves selfless service and active participation in tasks that contribute to the well-being of the Ashram community.
Candle Meditation
Candle meditation sessions are conducted, allowing individuals to focus their attention on a burning candle flame as a means to enhance concentration and achieve a meditative state.
Nasal Cleansing (Neti)
The Ashram provides instruction and guidance in the practice of Neti, a traditional yogic technique for nasal cleansing, which helps to purify the nasal passages and promote respiratory health.
These activities provide individuals with opportunities for self-reflection, spiritual growth, and a deeper immersion in the yogic practices and principles taught at Yoga Niketan Ashram.
Places to Visit near Yoga Niketan Ashram
Situated in a scenic location, the ashram offers breathtaking views of the river at the backside and the surrounding hills. This natural setting provides a serene and tranquil environment, conducive to spiritual practice and reflection.
The ashram's advantageous location also allows for easy access to various nearby attractions. Some of these attractions include:
Triveni Ghat (4 km)
Triveni Ghat is a revered bathing ghat located 4 kilometers away from the ashram. It is a significant pilgrimage site where visitors can witness the confluence of three sacred rivers - Ganga, Yamuna, and Saraswati.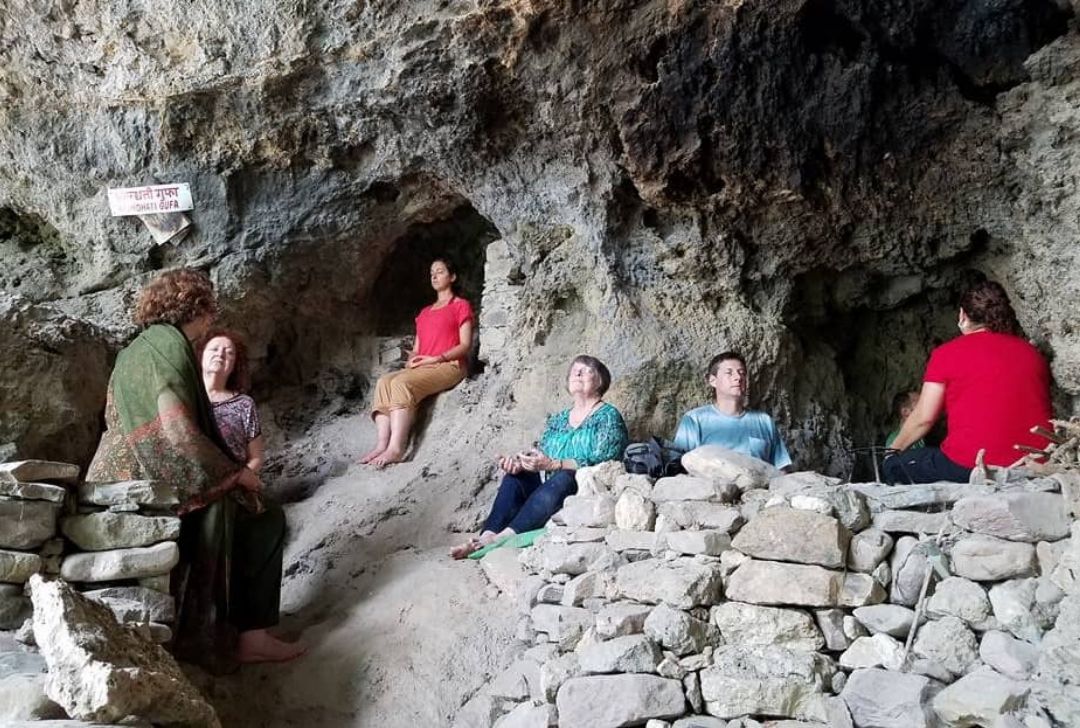 Vashisht Cave (25 km)
Vashisht Cave is a renowned spiritual destination situated 25 kilometers from the ashram. It is believed to be the meditative abode of the sage Vashisht, offering a serene and meditative atmosphere.
Ram Jhula (500 m)
Ram Jhula is a famous suspension bridge located just 500 meters away from the ashram. It is a popular landmark and offers panoramic views of the holy Ganges river.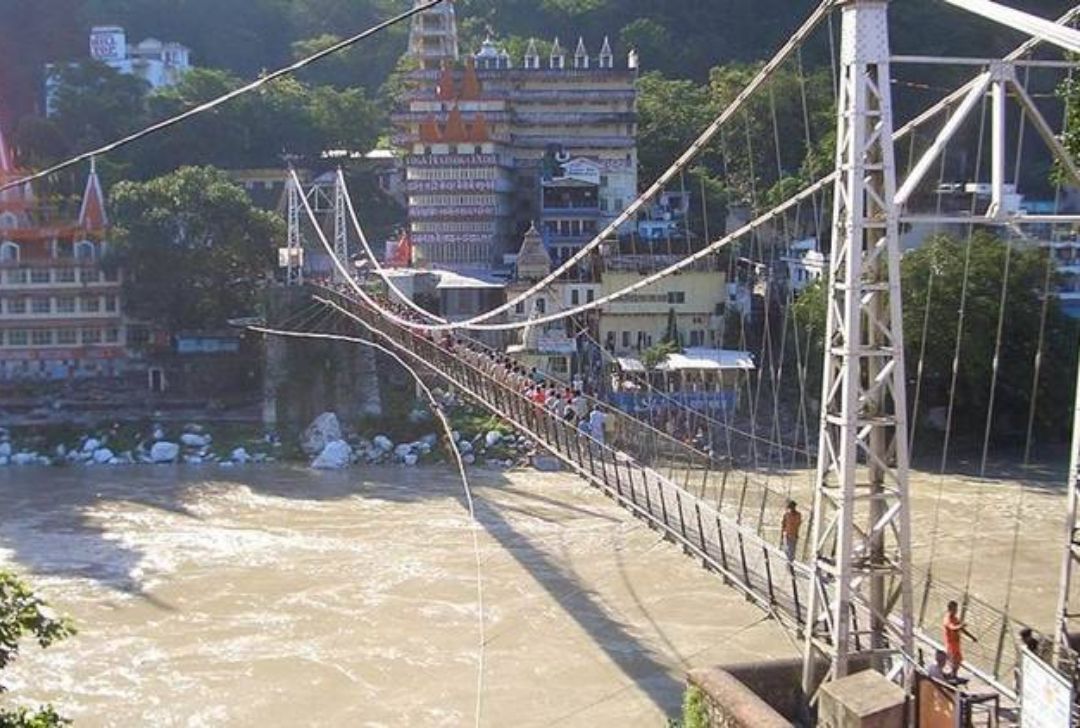 Lakshman Jhula (3 km)
Lakshman Jhula is another iconic suspension bridge situated 3 kilometers from the ashram. It is associated with Hindu mythology and offers picturesque views of the river and surrounding landscapes.
Parmarth Niketan, Sivananda Ashram, Swarg Ashram, and Geeta Bhavan
These are well-known ashrams and spiritual centers in the area, each with its own unique offerings and spiritual activities. Visitors can explore these places to deepen their spiritual journey and participate in various programs and events.
With its advantageous location and proximity to these attractions, the ashram provides an ideal base for visitors to immerse themselves in spiritual practices while also enjoying the natural beauty and cultural richness of the region.