Uttarkashi
Meditation in the Himalayas
Uttarkashi, the headquarters of the Uttarkashi district, is a place of great historical and cultural significance. It is located in the northern part of India, nestled amidst the breathtaking beauty of the Himalayan ranges. Uttarkashi is known for its stunning mountain views, ancient temples, and serene natural surroundings.
One of the main attractions in Uttarkashi is the ancient temple dedicated to Lord Shiva. This temple holds immense religious importance and attracts thousands of devotees throughout the year. It is considered to be the Kashi of the north due to its association with Lord Shiva, similar to the famous Varanasi temple in Uttar Pradesh.
Apart from the Lord Shiva temple, Uttarkashi is adorned with numerous other temples that are dedicated to various deities. These include temples dedicated to Lord Hanuman, Goddess Durga, Parshuram, Dattatrya, Bhairav, Annapurna, Laksheswar, Ekadashrudra, and many more. These temples showcase the rich religious and cultural heritage of the region...
The natural beauty surrounding Uttarkashi is truly awe-inspiring. The high Himalayan ranges create a majestic backdrop, offering panoramic views of snow-capped peaks, deep valleys, and gushing rivers. The green meadows and dense forests add to the scenic charm of the place, providing opportunities for nature walks and exploration.
Uttarkashi is also known for its hot springs, which are believed to have medicinal properties. These natural springs are a popular attraction for visitors seeking relaxation and rejuvenation.
During the winter season, Uttarkashi transforms into a winter wonderland as it gets enveloped in a blanket of snow. The entire landscape becomes magical, offering a unique experience for those who enjoy the serene beauty of snowy vistas.
In summary, Uttarkashi is a place of immense beauty, rich cultural heritage, and spiritual significance. With its ancient temples, sweeping mountain views, and natural wonders, it captivates the hearts of visitors and provides a truly enchanting experience.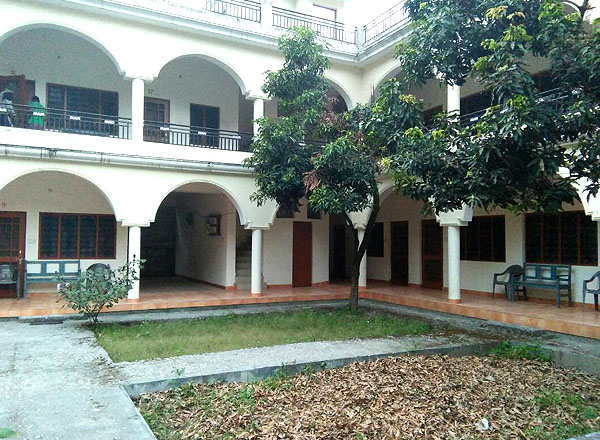 ---
| Room Type | Room Tarrif |
| --- | --- |
| Single Rooms | Rs. 650.00 + 12% GST/ Per Day |
| Double Room | Rs. 1100.00 + 12% GST/ Per Day |
| Four Bed Room | Rs. 1600.00 + 12% GST/ Per Day |
A Yoga Hall is also available in the Ashram. can do self Yoga and Meditation Practice there.
Kitchen facility is also available to cook Food.
Hall Type
Yoga Hall for Yoga and Meditation
Rs. 500.00 Per Day
Yoga Hall for Birthday Party
Rs. 1000.00 Per Day
Yoga Hall for Marriage Party
Rs. 1500.00 Per Day